Pickups
As a guitar builder, I've had the unique opportunity to try ALL kinds of pickups. I've used most of what's on the shelf as well as original vintage pickups that fetch $3000+ a set! Some of the old pickups had something hard to describe, but missing from modern pickups. They were lively, raw; gutsy, with soul that just sounded 'vintage'. I set out to break the rules on what 'couldn't be done', I began the quest to create something I was finally happy with. A huge part of the difference had to do with winding techniques and patterns. An equally large factor was the quality of the components and especially the magnets. I took several samples from real deal vintage pickups and spent a LOT of time listening to and testing AlNiCo Magnets carefully sorting through suppliers until I found the best and most orignal and ALIVE sounding magnets. Finding these magnets was HUGE and what I consider a breakthrough in tone. The right parts, the right techniques are what make my guitars special... or as I like to call it... the Secret Recipe for my Guitars!
---
1959
AlNiCo Magnet | P.E. Wire | Period Correct Braided Cable Ships 2-7 business days from time of order.
$549.99 a Set

$299.97 with US Shipping // $319.97 International - LIMITED TIME ONLY
After many years of only offering our Rocketfire P.A.F.s and other humbuckers in custom guitars or as a favor to repeat customers, they're now available to all! Rocketfire P.A.F.s' are Open, Alive and Resonant by design. You'll find them so inspiring and captivating that you can't put the guitar down! Our P.A.F. modeled pickups are not wax potted and are wound in a unique way which captures the wood and unplugged sound of the guitar. They have the same subtle compression that makes our Strat pickups sound the way they do! It's an almost tube rectifier compression that comes back at you after you hit a chord. This is super important because it gives the highs crystal clear definition without any harshness. Hear that bell like single coil type clarity with the grind and power of a humbucker and you've heard our '1959 PAF'! Take a listen and see what we mean!

Special thanks to Mark Kim for recording these 3 Peter Green style clips!
Combo Position
Bridge Only
Neck Only
with Peter Green MOD added = Out of Phase!
Peter Green mod is available only by special request (no additional charge).

Special thanks to Geoff D of Florida for recording this next Long Play clip!
Geoff D Flametop 1959 PAF Tones



PAF Band Mix All Bridge pickup. In a mix. Solo'd at the beginning.
3 Position Flip Through All 3 positions on the switch CLEAN! Zoom G1on (Fender Model, Carbon Copy Delay) >> RF Amp

---
NEW for 2020!! SS1983 Super Splitter - Humbucker (for Super Strats)
AlNiCo Magnet | F-Spaced | 4 Conductor Cable Ships 2-10 business days from time of order.
This pickup was designed with 3 main objectives:
1. To sound alive and open like a vintage humbucker, but with a little more output
2. To split amazingly well (slug side split is intended and is the best tone option)
3. To mix well with single coils.
It's always somewhat of a compromise with a split humbucker, but the SS-1983 Super Splitter is as best of both worlds as it gets!! It will surprise you the first time you split this pickup!
Be Prepared!!
Check out this great video by Rocketfire user and LA session player
Keven Eknes
:
SS-1983 Humbucker / 1969 Singles on YouTube
See more of his work both on his YouTube Channel and here:
http://www.keveneknes.com
---
Total 60's Strat (as seen in Vintage Guitar Magazine)
Staggered AlNiCo 5 Magnets | Formvar Wire | Cloth Covered Leads | Forbon Bobbins
Ships 2-7 business days from time of order.
This is the classic Strat set! If you're looking for huge vintage bluesy tones that cut through the mix yet smooth as butter with silky sweet highs these are it! They're made to nail the original tones from the vintage Strats we grew up hearing. There's a tone that was sort of etched into our brains and ears as we've listened to music over the years. It's a sound that we attribute to a Stratocaster that tells us, NOW that's a Strat! Just like when we hear a REAL Hammond B3 organ through a tube driven Leslie... We know, "That's the Sound"! I want guitar players and even the un-educated listener to hear them and say, " Now THAT'S THE SOUND!".
Characteristic of these pickups is a raw, gutsy; vintage sound with a hint of almost tube rectifier compression that comes back at you after you hit a chord. The sound is very complex with good dynamics and amazing clarity. They also break up GREAT!

Here is a great comparison between this set and the Fender Custom Shop 69's in a
YouTube video
created by a customer.
Here is one of my favorite recordings of these pickups graciously sent in by Tyler Grund:
YouTube video


---
Rockin '54 Strat Set
Staggered AlNiCo Magnets | Formvar Wire | Cloth Covered Leads | Forbon Bobbins Ships 2-7 business days from time of order.
This set is based on the first two years of Strat pickups from Fender production. These pickups are EASY on the ears and super creamy overdriven. The shorter 'G' magnet (than the later 50's - 60's stagger) yields a VERY smooth tone that is great for overdriven sounds. These are my 'session players' Strat pickup. They have an ultra ear pleasing tone that is especially great for crunchy rhythm parts!
---
Rocketfire '69 Set for Strat
Staggered AlNiCo 5 Magnets | Vintage Plain Enamel Wire | Cloth Covered Leads | Forbon Gray Bottom Bobbins
Ships 2-7 business days from time of order.
An excellent description and feedback from Dani of the Experience Hendrix Tour on this set (these were his idea). Thank you Dani for the inspiration! Here is what he had to say about his 'experience' ! His description hit the nail on the head!


"I have to tell you that the Gypsy Set is amazingly sweet. It's just the tone I was looking for. In comparison to the Total 60s set, they are a bit dryer sounding, just like the CBS late strat pickups. The Total 60s have more sparkle and chime, so now I have the best of both worlds. B-)"








---
BSB52 Pickups for Tele
AlNiCo Magnets | Formvar and P.E. Wire | Cloth Covered Leads | Forbon Bobbins Ships 2-7 business days from time of order.




As used in Leo's first REAL electric, the Broadcaster; later to be renamed Telecaster. Beautifully balanced and always smooth. These overdrive amazingly for rock; with plenty of twang for country and rockabilly.


You'll find this set sounds very much like the real thing, but affordable and with fresh new construction providing many years of reliability that you can count on! If you've owned many vintage guitars and gigged with them, no doubt you've experienced great tone at the expense of reliability. Tradeoffs are usually a part of life... thankfully that part of life can be over! Finally gig worthy pickups that also feature gig reliability!



Neck and Bridge Pickups Middle position on the switch clean Zoom G1on direct into laptop 3.5mm in.

Bridge Pickup Bridge pickup into a nasty overdrive.






---
BSB52-PLUS!
AlNiCo Magnets | Formvar and P.E. Wire | TELE Pickups with a PLUS!! Ships 2-7 business days from time of order.
Do you love Tele pickups, but always wish you had the bluesy; soulful sound of a Strat neck pickup? This is that set!! It's the same great Butterscotch Blond 52 bridge pickup, but with a neck pickup that will push your Tele into new realms! This neck pickup is wound with our Total 60s Strat magnets, wire, and special wind pattern. All of this is put into the package of a regular Tele neck pickup! Flip to the neck and you have a nice bluesy tone. Flip to the bridge and you have a powerful Tele bridge pickup. The middle position sounds very similar with that classic scooped sound. In our opinion, this is the best thing you can do with a Telecaster! Try it... you'll like it!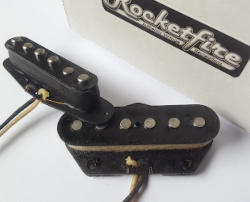 ---
Audio Clip's and Samples
Here's one of my
Total 60's Strat set
- Quick little lo-fi recording through a USA Crate V5212VFX I happened to have in the room. Sort of an old pearl jam vintage strat drive sound to it. Didn't plan it that way... that's just what I thought after it went onto the tape.
Here are 3 Nice clips of my Total 60's Strat set in a Jeff Beck Stratocaster. Recorded by Canadian Session Player
Cam MacInnes
. Great player and thanks! Also thanks to Gord Basa who did the actual audio recording.
Middle
(my favorite pickup and beautiful clip Cam!!!),
Bridge
,
Neck
. This was recorded through a
Clark
Piedmont (Tweed Bassman replica). Notice the lively almost acoustic properties of the middle pickup.
Thanks to
Matt Mawhir
of Florida for these samples of ALL 5 positions both CLEAN and DIRTY. Great playing Matt!
Clean:
Bridge
Bridge and Middle
Middle
Middle and Neck
Neck
Overdrive:
Bridge
Bridge and Middle
Middle
Middle and Neck
Neck
Thanks to
Tyler Grund
of brrrrr cold Minnesota for these next samples.
Total 60's through an Arc Furnace pedal
YouTube VIDEO!! of Grund doing the SRV thing!
---
All pickups are backed by a 100% Satisfaction Guarantee.
Love the tone or send them back for a refund of the purchase price.